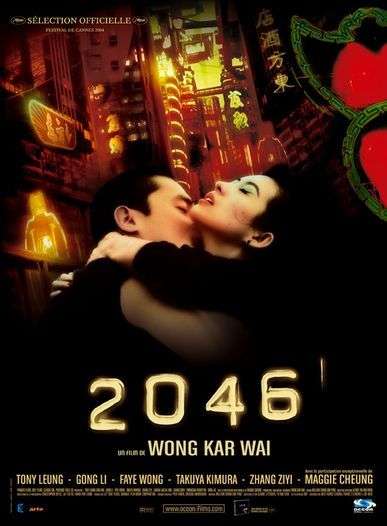 2046'ya giden bütün yolcuların amacı aynıdır; kayıp hatıraları canlandırmak çünkü 2046'da hiçbir şey değişmez. Ancak hiç kimse bunun doğru olup olmadığını bilmez. Çünkü geri dönen hiç olmadı.Uzakdoğu sineması veya Kar Wai Wong (yönetmen/senarist) denince akla gelen ilk filmlerdendir, 2046. Kar Wai Wong (My Blueberry Nights ile In the Mood for Love filmlerinin yönetmen/senaristi) ve Tony Leung Chiu Wai'den (In the Mood for Love, Infernal Affairs ve Lust, Caution filmlerinin de başrol oyuncusu) melankolik bir başyapıt.
60'lı yıllarda bir gazetecinin roman yazarlığında kendini geliştirmek için bocaladığı bir dönemde, gelecekte var olan 2046 adını verdiği bir trende kurguladığı içsel muhakemeyi yazarak Hong Kong ve Çin'de ünlenmesine tanıklık ediyoruz. Tüm bu süreçte kahramanımız bir yandan yeni aşklar yaşarken diğer yandan da unutamadığı eski aşklarının burukluğunu romanlarında yaşamaktadır.
Yönetmenin yarattığı başarılı anlatım ve güzel film müzikleriyle 2046, Uzakdoğu Sineması'nın seçkin yapıtlarından biri olmayı hak ediyor.Bol ödüllü bu özel filmi kaçırmayın.Fragmanı buradan izleyebilirsiniz.Filmin orijinal sitesi içinse buraya bakınız.