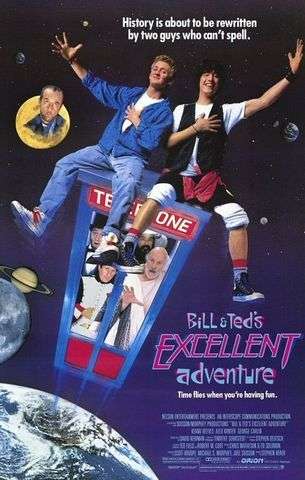 Daha önce bir çok yapımın senaryosuna katkıda bulunan Kaliforniyalı sinemacı Ed Solomon ve Chris Matheson'un senaryosunu yazdığı, "The Three Musketeers", "Rock Star", "101 Dalmations", "Life Or Something Like It" gibi filmlerin yönetmeni olan Stephen Herek'in yönetmenliğini üstlendiği 1989 yapımı komedi/bilim-kurgu filmi "Bill & Ted's Excellent Adventure", Lübnanlı aktör Keanu Reeves ve İngiliz aktör Alex Winter ile izleyicilerini "Back To The Future" tadında bir zaman yolculuğuna davet ediyor.
Ted ve en yakın arkadaşı Bill, kötü birer öğrenci olmalarının dışında, rock müzik aşığı iki çılgın gençtir. Bir sonraki gün gerçekleşecek olan tarih dersi sözlüsünden kalmaları durumunda hem aileleri tarafından baskı altına alınacak, hem de müzik grubu kurma hayalleri suya düşecektir.
Evlerine girer girmez tarih çalışmaya başlayan iki genç, o akşam inanılmaz bir durumla karşı karşıya kalacaklardır; gökten inen telefon kulübesi şeklindeki zaman makinası, Ted ve Bill'i istedikleri yere ve istedikleri zamana götürecektir.