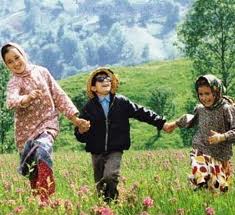 The Colour Of Paradise
Orjinal adı Reng-i Huda olan, ingilizce'ye The Color Of Paradise olarak çevrildiği için bizde de Cennetin Rengi adıyla bilinen bir Majid Majidi filmi.
Sinema giderek bir teknolojik görsel şölene dönüşürken, sinemanın hala sanat olduğunu hatırlatarak yüreklere su serpen bir film. Dev bütçeler, güdük seneryolar, patlama çatlamalar, kan ve iç organ görüntüleri, dünyayı her seferinde kurtaran WASP (White, Anglo Sakson, Protestan) kahramanlar, ABD'nin; dolayısıyla Hollywood'un resmi düşmanı olan komünist, ortadoğulu, zenci, kızılderili, Uzaylı, Vietkonglu kötü adamların boy gösterdiği filmler, animasyonlar, listeyi uzatmak elbetteki mümkün. Tablo açıkça gösteriyor ki dünyanın bir yarısı için sinema çıkmaz bir sokağa girmiştir.